Manchester Yacht Club
15 Tuck's Point Road
Manchester-by-the-Sea, MA 01944
Phone: (978) 526-4595
Email: [email protected]
Directions
By Car:
Manchester Yacht Club is located toward the western border of the town of Manchester-By-The-Sea on Boston's North Shore. The closest major highway is Route 128. Exit Route 128 at Pine Street, exit 16. Turn left at the bottom of the exit ramp to go onto Pine Street. Proceed south 1.4 miles on Pine Street (watch the speed here) until it ends at Route 127. Turn right (west) onto Route 127 (Bridge Street) for 0.7 miles. Turn left onto Harbor Street, marked by the "Old Corner Inn". Proceed to the end of Harbor Street, going over a wooden railroad bridge.
Make a left onto Tuck's Point Road. In less than a tenth of a mile, you will see a field on the left with a white boathouse, a dumpster, boats on racks and parked cars. This is the parking area for Manchester Yacht Club guests and members. Take a left and park. Walk down Tuck's Point Road in the direction you were driving and make your first right. At the end of the driveway and Members parking area is the venerable Manchester Yacht Club. Welcome. If you are a Manchester resident, you are requested to park in the town parking area directly behind the beach.
By Boat:
Entering Manchester Harbor may look formidable on the chart, but the dangers are all well marked. From Boston Harbor, you can enter Salem Sound from the south through the Cat Island Channel, or from the east, leaving Bakers Island and its associated rocks to port.

The Cat Island Channel is more direct, but on a racing weekend, the area between Tinkers and Cat Island will be full of small boats. Pass between Cat Island and Satan's Rock, then between the Pope's head and the Brimbles. Leave Eagle Island well to port, following the nuns to avoid Hardys rocks.

You can pass Misery Island very close on its east end, avoiding Whaleback, which has a red day mark on it.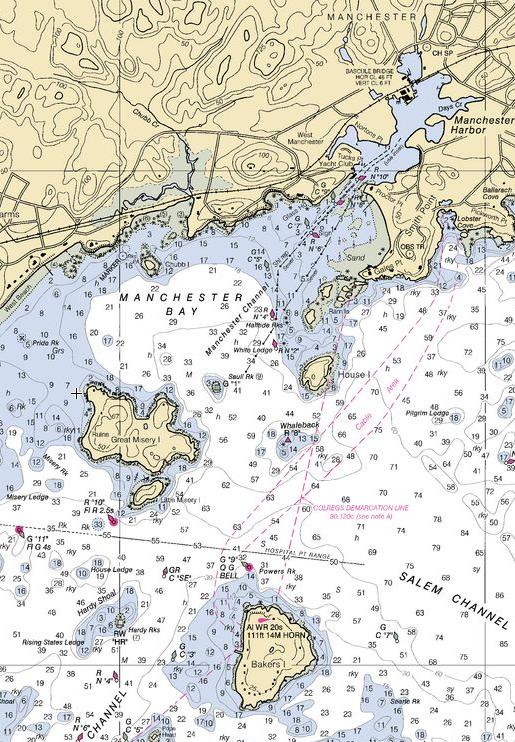 Past Misery Island, you will see a green day mark indicating Sauli's Rock to port. To starboard, you will find two nuns, leave them to starboard to avoid White Ledge and Half Tide rock. As you approach the harbor, stay in the channel; both sides of the channel are dry at extreme low water.
Manchester Yacht Club is on the port as you enter and we monitor VHF CH 78. Continue in past the second narrowing of the channel to find Crocker's Boat Yard and Manchester Marine. Manchester Marine has fuel and holding tank pump outs. Both yards rent moorings.